Rangkaian Produk CNI
CNI menawarkan rangkaian produk merangkumi hampir keseluruhan aspek kehidupan kita seharian yang terdiri dari produk-produk makanan dan minuman kesihatan sehinggalah ke produk sistem audio.
Produk makanan dan minuman kesihatan CNI dihasilkan di kilang pemprosesan makanan bertaraf GMP (Good Manufacturing Product) yang bertaraf antarabangsa. Terletak di Hicom-Glenmarie Industrial Park, kilang CNI merupakan satu-satunya kilang di Malaysia yang menggunakan teknik Kering Beku dan Teknik nyah kuman melalui sinaran Gamma untuk mengekalkan unsur aktif produk.
Produk-produk CNI mempunyai keistimewaannya yang tersendiri :-
- Unik dan berkhasiat
- Bermutu dan harga berpatutan
- Selamat dimakan dan tanpa kesan sampingan
Setiap produk CNI telah dilindungi insurans setinggi RM 1 juta dan mutu setiap produk adalah dijamin keberkesanannya disamping jaminan kepuasan dalam tempoh 30 hari.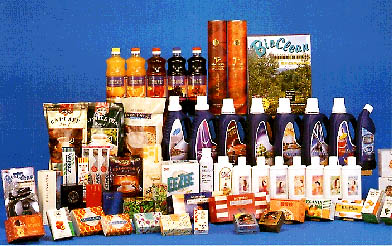 CNI'S QUALITY PRODUCTS
CNI offers a wide range of products to cater to the needs of its distributors and consumers. The Company's main focus when developing its products lie in three key principles i.e. that the products are unique and healthful, of high quality, with competitive pricing and obtained from natural sources with no resulting side effects. CNI's series of products include Nutritional and Health Food, Food and Beverage, Household, Personal Care, Auto Care, Electrical Appliances, Health Garments, Water Treatment System, Skin Care and Cosmetics.